When Bert's vaudeville partner, George Walker, is attacked outside a theatre during the 1900 New York City race riot, Bert visits him in the hospital. George is feeling hopeless, and Bert suggests he take solace in books. He shares his copy of John Ogilby's Africa, claiming the book proves that every Pullman porter is descended from a king.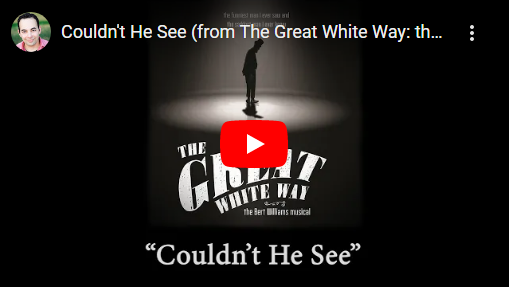 This song is sung in Act I by Charlie Fields, a white song-and-dance man who came up in the Vaudeville circuit in Florenz Ziegfeld's shows. Rehearsing alone one night in 1896, Charlie reflects on his journey to Ziegfeld, a surrogate father after his own family disowned him when he went into show business.
It's 1910, and Bert Williams is asked to join the cast of the 1910 Follies. Horrified at the prospect of a Black man as a headliner, Charlie Fields and other white cast members threaten to quit if Bert isn't fired. Ziegfeld calls their bluff and orders them out, but once alone with Bert, he says, "You better be worth it, boy." Charlie leaves the theatre, stunned at this turn of events, while Bert, shaken, ultimately recommits to trying to use humor to advance the cause of racial uplift.  This is the Act I finale.
| | |
| --- | --- |
| | Content Warning: This song depicts racist ideas and language of the time and may be offensive or upsetting to listeners. |
Late in the musical, Bert has a tense exchange with Ida B. Wells-Barnett, a Black reporter chronicling Black lynchings across America. She blames Bert for perpetuating racial stereotypes and supporting a dehumanized vision of people of color. After she leaves, Bert is left feeling much sicker, both physically and spiritually. While putting on the burnt cork makeup for his performance that night, he questions his choices and culpability.
It's 1895, and George Walker, Bert's new vaudeville partner, shares the news that he found them a new manager who can help them reach their goal of performing on the Vaudeville circuit in New York. "Say Goodbye" begins with them excitedly packing and follows them on their trip to New York, ending abruptly when they suddenly find themselves looking up at a large Vaudeville theatre in New York. 
This song begins immediately after "Say Goodbye" ends abrupty, as George and Bert suddenly find themselves looking up at a large Vaudeville theatre in New York. In "We're Gonna Fly," their lifelong dream now directly in front of them, they're faced with fear that turns to determination.
The Great White Way
the Bert Williams Musical
a new musical by Aaron Alon
with
BRIAN CHAMBERS     ASHLEY DUPLECHIEN     LEAH DYER     AMANDA PARKER
NICK SZOEKE     EMMA THOENI     JOHN WATKINS
Music, Lyrics, & Book
AARON ALON
Music Direction
AARON ALON
LEAH DYER
Choral Conductor
RYAN BROWN
Recording Engineers
AARON ALON
ANDY BRADLEY
Mix & Mastering Engineer
AARON ALON
Vocal Arrangements
AARON ALON
Historical Consultants
LOUIS CHUDE-SOKEI
FRANK CULLEN
Graphic Design
CATHERINE HEADEN
CAST
(in order of appearance)
Young Bert: Sekou Nance
Charlie Fields: Noah Tierney
Bert Williams: Danté Anderson
George Walker: Preston Andrews
Follies Singer: Brad Goertz
Ida B. Wells-Barnett: Tamara Siler
Lottie Thompson: Monica Davis

ENSEMBLE
Danté Anderson, Preston Andrews, Brian Chambers, Monica Davis, Ashley Duplechien, Leah Dyer, Brad Goertz, Amanda Parker, Tamara Siler, Nick Szoeke, Emma Thoeni, John Watkins
MUSICIANS
Aaron Alon, keyboards
Russ Ballenger, trombone
Julian Hernandez, clarinet
Garrett Hudson, flute
Samuel Park, violin
Sebastian Sarre, trumpet
Christoph Wagner, cello
Drums, double bass, oboe, and English horn were virtually orchestrated by Aaron Alon.
Album Produced by Aaron Alon Productions, LLC.
©2022 Aaron Alon Productions, LLC.
Music, lyrics, book, and orchestrations are
©2019-2022 Aaron Alon (ASCAP). All Rights Reserved.