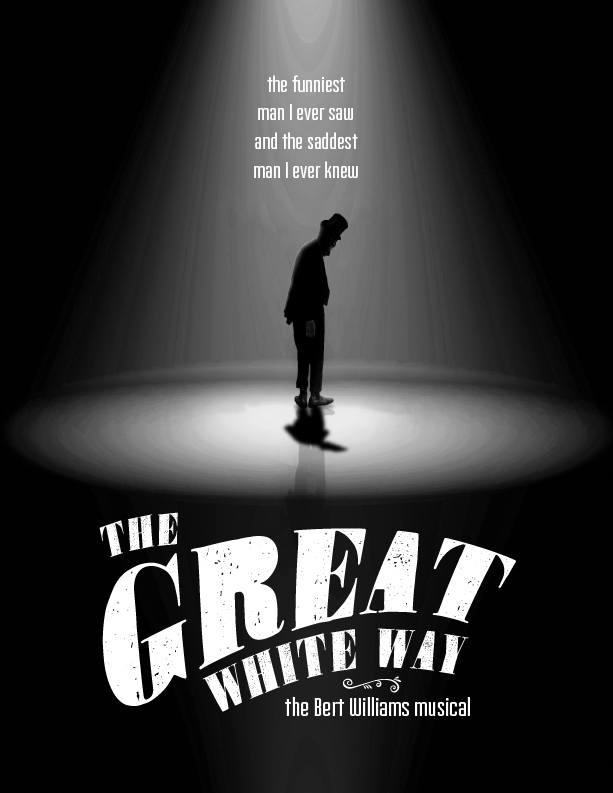 About
The Great
White Way
The Bert Williams Musical
The Great White Way: the Bert Williams Musical is a new musical about the famed comedian, Bert Williams, who was the first major Black star on Broadway. His life in comedy, set against a time of anti-Black race riots throughout the United States, tells the story of the man WC Fields called "the funniest man I ever saw and the saddest man I ever knew."
Highlights from the life of bert Williams
Chronology
The following is a chronology of highlights from the life of Bert Williams. Certain aspects of his life are omitted or slightly altered in the musical for dramatic purposes. 
Click on each period of his life to expand it.
Early Years (1874-1902)
1874: Bert Williams is born in New Providence, Nassau, in the Bahamas to Frederick Williams Jr. (a child of a Danish father and half-Spanish, half-African mother) and Julia Monceur (a Black woman from Antigua, in the West Indies)
1876: Two-year-old Bert and his father move to New York City briefly, but they return to the Bahamas.
1884: Bert and his family leave Nassau due to the Bahamian depression, settling first in Florida and eventually putting down roots in Riverside, California.
1890: Bert drops out of school to become a medicine show barker.
1893: Bert starts performing in Marin and Selig's Minstrels and meets George Walker.
1896: Williams and Walker arrive in New York.
1897: Bert, George, and Aida Reed Overton (who married George) kick off a nationwide cakewalk craze, as they rise to the top of the vaudeville circuit.
1898: Bert and George star in a Dunbar and Cook Black operetta.
1899: Bert marries Lottie.
1900:

 

Sons of Ham, starring Bert and George, opens in New York. It's an instant hit, running for two years.
1901: Bert and George start recording for Victor.
Broadway (1903-1909)
1903: Bert and George land a show on Broadway.

 

In Dahomey

 

has a successful run, followed by a tour, including a command performance for the court of King Edward VII.
1904: Bert and George are initiated into Freemasonry in a lodge in Edinburgh, Scotland.
1905-1906: Bert and George play Hammerstein's Victoria Theatre, the leading New York vaudeville venue.
1906:

 

Abyssinia

 

opens on Broadway.
1908:

 

Bandanna Land

 

open on Broadway. Bert and George hold a special 16th anniversary celebration of their partnership. They found the Frogs, a society for Black entertainers that aimed to educate Black Americans about Black achievements and provide a social group for Black entertainers.
1909: George collapses on stage from a syphilitic stroke. Bert relaunches as a single on Vaudeville and performs in a new musical,

 

Mr. Lode of Koal.
The Ziegfeld Follies (1910-1919)
1910: Bert joins the Ziegfeld Follies.
1911: George dies, leaving Aida a widow and Bert without his strongest ally. Bert joins forces with white comedian Leon Errol, forming the first such interracial comedy team in Vaudeville. Bert signs a 3-year contract with the Follies.
1912: Bert's father dies.
1913: Bert performs for a Frogs show and headlines at the Palace. He and Lottie take in and raise three girls after the death of his sister-in-law.
1914: Aida dies. Bert performs in the Follies and in the film

 

Darktown Jubilee.
1915: Bert performs in the Follies of 1915, using his native West Indian accent for the first time on stage. This is the last year he writes or records original songs. Unable to enlist as a non-citizen, Bert leads a Black regiment of the National Guard in a march through Manhattan.
1916: Bert performs in the Follies of 1916 and in two films:

 

A Natural Born Gambler

 

and

 

Fish.
1918: Bert becomes a US citizen and makes recordings for Columbia.
1919: After a year off, Bert returns to the Follies.
Final Years (1918-1922)
1920: Bert performs in

 

Broadway Brevities. The start of Prohibition in the US hits Bert hard.
1921: Bert performs in

 

The Pink Slip, which gets retitled

 

Under the Bamboo Tree.
1922: Bert collapses during a performance of

 

Under the Bamboo Tree. He dies on March 4th, at the age of 47, from pneumonia and the same heart condition that had claimed his father's life ten years prior.
People sometimes ask me if I would not give anything to be white. I answer…most emphatically, 'No'…I have never been able to discover that there was anything disgraceful in being a colored man. But I have often found it inconvenient—in America.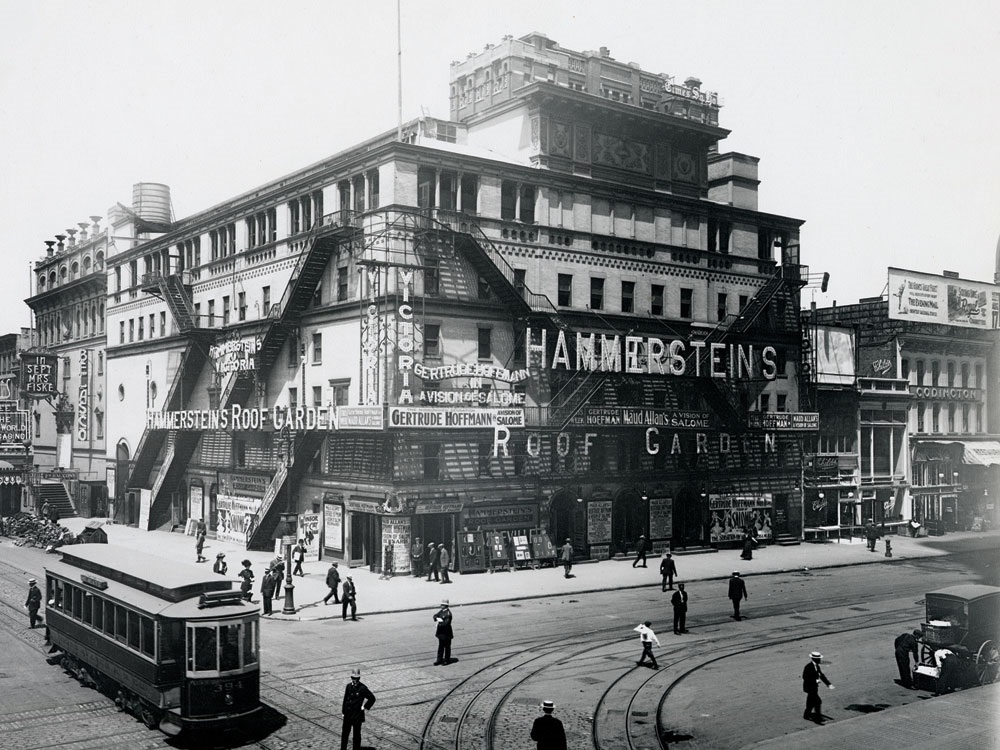 Vaudeville Terms used in the musical
Terminology
Black up: put on blackface makeup.
Coon Song: a vocal rag (ragtime song) with stereotypical dialect and sometimes including racist stereotypical behaviors, like chicken stealing, watermelon eating, or violent tendencies (often with razors).
Follies

 

(renamed the

 

Ziegfeld Follies

 

in 1911): a sophisticated New York variety show run by Klaw and Erlanger, with Florenz Ziegfeld as the front man in charge of hiring decisions. The show featured chorus girls and variety acts, including comedians.
Jardin de Paris: the rooftop garden performance space of the Follies until 1913.
Jim Crow: a vaudeville caricature of a slow, dim-witted country-bumpkin. He spoke in a southern Black dialect and wore oversized, ill-fitting clothes.
The Passing Show:

 

A show staged by the Schuberts that became the main competitor to the Follies.
Single: a solo act.
Syndicate: an alliance of producers and booking agents who held immense sway, as they controlled regional theatres nationwide.
Vaudeville: a variety show of the late 19th and early 20th century. By the 1880s and 1890s, Black people became the principal comic characters, with white performers playing Black (in blackface), Irish, Hebrew, and Dutch stereotypes, and with Black performers playing Black and sometimes Chinese stereotypes.
Victoria: the leading New York Vaudeville theatre, owned by Oscar Hammerstein I
White Rats: a white vaudevillians' union and fraternal order founded in 1900. They protested Bert's status as a headliner.
He might have been known as the greatest tragedian had he been white. But the world for a long time now has refused to take black men seriously. So the white world made Bert Williams the world's greatest comedian.
– Crisis, the official magazine of the NAACP
First Draft Completed
Aaron Alon completes a first draft of The Great White Way: the Bert Williams Musical.
Concept Album Casting
Aaron completed revisions on the musical and auditioned for and cast the concept cast album.
Concept Cast Recording
The concept cast album is recorded in Houston.
Concept Cast Recording
The concept cast album is released.
The real Bert Williams is crouched deep inside the coon who sings the songs and tells the stories.
Research consulted in the preparation of this Page
Sources Consulted
Chude-Sokei, Louis. The Last "Darky:" Bert Williams, Black-on-Black Minstrelsy, and the African Diaspora. Duke UP, 2006.
Forbes, Camille F. Introducing Bert Williams: Burnt Cork, Broadway, and the Story of Americas First Black Star. Basic Civitas Books, 2008.
Smith, Eric Ledell. Bert Williams: a Biography of the Pioneer Black Comedian. McFarland & Company, Inc., 1992.
Westover, Jonas. The Schuberts and Their Passing Shows: the Untold Story of Ziegfeld's Rivals. Oxford UP, 2016.
The Vaudeville terminology was revised and expanded with the assistance of Vaudeville historian Frank Cullen, a consultant for this musical.